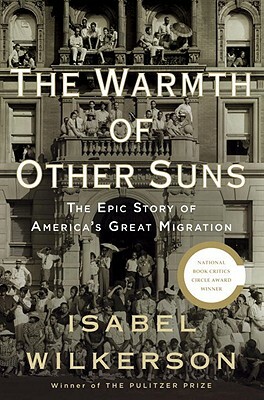 Genre: Nonfiction | History (US)

Stars: 5 out of 5

Synopsis from The StoryGraph: In this beautifully written masterwork, Pulitzer Prize-winning author Isabel Wilkerson chronicles one of the great untold stories of American history: the decades-long migration of black citizens who fled the South for northern and western cities, in search of a better life. From 1915 to 1970, this exodus of almost six million people changed the face of America. Wilkerson compares this epic migration to the migrations of other peoples in history. She interviewed more than a thousand people, and gained access to new data and official records, to write this definitive and vividly dramatic account of how these American journeys unfolded, altering our cities, our country, and ourselves.

With stunning historical detail, Wilkerson tells this story through the lives of three unique individuals: Ida Mae Gladney, who in 1937 left sharecropping and prejudice in Mississippi for Chicago, where she achieved quiet blue-collar success and, in old age, voted for Barack Obama when he ran for an Illinois Senate seat; sharp and quick-tempered George Starling, who in 1945 fled Florida for Harlem, where he endangered his job fighting for civil rights, saw his family fall, and finally found peace in God; and Robert Foster, who left Louisiana in 1953 to pursue a medical career, the personal physician to Ray Charles as part of a glitteringly successful medical career, which allowed him to purchase a grand home where he often threw exuberant parties.Wilkerson brilliantly captures their first treacherous and exhausting cross-country trips by car and train and their new lives in colonies that grew into ghettos, as well as how they changed these cities with southern food, faith, and culture and improved them with discipline, drive, and hard work.

Both a riveting microcosm and a major assessment, The Warmth of Other Suns is a bold, remarkable, and riveting work, a superb account of an "unrecognized immigration" within our own land. Through the breadth of its narrative, the beauty of the writing, the depth of its research, and the fullness of the people and lives portrayed herein, this book is destined to become a classic.
I won't lie. This book is an undertaking but it is SO well-written and contains SO much good information, it is worth every minute you will spend with it.
Clocking in at 600+ pages, I worried this book was going to be a dry presentation of statistics and while I felt like it was an important book to read, I was delighted to find it very approachable and relatable, in as much as a white person can relate to it. Perhaps empathasize might be a better word than relate? In any case, this book on the massive exodus of Black people from the US South to points north and west to escape the conditions of the post-Civil War south does an amazing job of synthesizing the trends that occurred in terms of the population shift of hundreds of thousands of people, particularly in the 1930s-1950s (although the trend continued, albeit diminishing, into the 1960s and 1970s), and of humanizing the data by presenting the stories of 3 migrants who left in the 1930s, 1940s and 1950s, respectively. Each of them had similar reasons for leaving but each of them had three very distinct and different lives after they left: One to Chicago and the urban industrial belt, one stayed on the east coast, but moved north to New York City's Harlem, and one ventured as far west as he could go to California.
Wilkerson seamlessly interweaves the research she's done with the stories of Ida Mae, George and Robert, and by doing so, allows them to represent different branches of the migration movement. She looks unflinchingly at the horrific conditions most Blacks lived in between the turn of the 20th century and throughout much of it. She manages somehow not to make it sound personal (the author herself is Black) but is able to present the dehumanizing aspects of Jim Crow laws and rampant racism throughout the American south (and the more subtle but no less present or devastating bias against Black people in the north) in a factual, concise manner. Drawing on what must have been hours of personal interviews with Ida Mae, George and Robert (as well as their family members, friends, and other members of their communities), she is able to paint a portrait of a group of people determined to make a better life for themselves and their children, even while continuing to struggle against discrimination, ostracism and often violence.
I am highly recommending this book to anyone who lives here in the US. Well-written with much in-depth research, it sheds a light on this untold part of our country's past and illuminates as well the difficult path that still lies ahead of the country with regards to race relations and the dignity of all people.