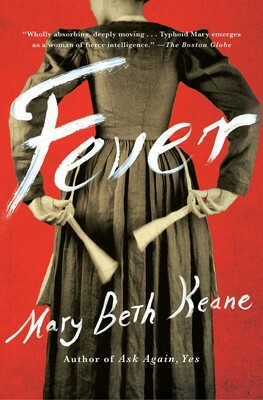 Genre: Historical Fiction

Star Rating: 3-1/2 out of 5

Synopsis from The StoryGraph: Mary Mallon was a courageous, headstrong Irish immigrant woman who bravely came to America alone, fought hard to climb up from the lowest rung of the domestic service ladder, and discovered in herself an uncanny, and coveted, talent for cooking. Working in the kitchens of the upper class, she left a trail of disease in her wake, until one enterprising and ruthless "medical engineer" proposed the inconceivable notion of the "asymptomatic carrier"—and from then on Mary Mallon was a hunted woman.

In order to keep New York's citizens safe from Mallon, the Department of Health sent her to North Brother Island where she was kept in isolation from 1907-1910. She was released under the condition that she never work as a cook again. Yet for Mary—spoiled by her status and income and genuinely passionate about cooking—most domestic and factory jobs were heinous. She defied the edict.

Bringing early twentieth-century New York alive—the neighborhoods, the bars, the park being carved out of upper Manhattan, the emerging skyscrapers, the boat traffic—Fever is as fiercely compelling as Typhoid Mary herself, an ambitious retelling of a forgotten life. In the hands of Mary Beth Keane, Mary Mallon becomes an extraordinarily dramatic, vexing, sympathetic, uncompromising, and unforgettable character.
This was a selection to meet a prompt for The 52-Book Challenge for a book title beginning with the letter "F", and because I'm always interested in medical history.
The name "Typhoid Mary" is thrown about a lot, and perhaps this is a timely read given our current pandemic decade, but I didn't really know much about the history of Mary Mallon beyond the fact that she was a cook in the early 20th century who was an asymptomatic carrier of typhoid. She is probably the first super-spreader of a communicable disease that we have on record. Typhoid is caused by a variant of Salmonella, although at the time this book begins, medical science had not isolated the organism and weren't really sure what caused outbreaks. Cooked food is generally okay (assuming it's been heated long enough to kill the bacteria) but it is easily carried in things like cut fruit, puddings, or ice cream, all dishes Mary apparently was known for.
The parts of this book I found fascinating were the progression over time of changing medical practices, as well as how people could be treated by the Department of Health. In Mary's case, she was really the first identified asymptomatic carrier and she was arrested as a public health threat (although without any actual proof at first – just some detective work by a department worker) and held for 27 months on a tuberculosis ward island in the middle of the Hudson River in quarantine (she did not have TB for the record). She eventually was brought to trial and was released with the requirement that she check in on a regular schedule for labs with the DOH and that she no longer work as a cook. After about 18 months of following these rules, Mary disappeared into the masses of New York immigrant workers and using an alias, got work first at a bakery, and then at the Sloane Hospital for Women (which was a labor and delivery hospital), before there was another outbreak of typhoid, which was traced to her, and she was again arrested and sent to permanent quarantine and isolation on the same TB island. Many of the precedents established in her court case and following ones regarding communicable diseases drive current health practices and laws.
I also really appreciated the detailed description of early 20th century New York City and the hospitals/medical personnel in the city, including a kind of side story about the opiate/morphine and then heroin epidemic of the 1920s and 1930s (more on that below). My grandmother was a nurse in a newborn ward at Bellevue Hospital where she spent the night shift walking heroin-addicted babies up and down while they cried and detoxed. My grandfather was working on his residency in medical school at this same time, and he was a product of an immigrant family who lived in similar conditions that Mary did. (He, in fact, always tested positive for TB, apparently having been exposed as an infant to it, but never converted to active disease. It was always an issue for him being in the medical profession, however, as he usually was required to have other follow-up testing to prove he was not an asymptomatic and transmittable carrier of TB like Mary was of typhoid.) The writing and research about that part of NYC's history is really good.
The book dragged on for me, though. I felt it needed better editing. We are introduced to Mary's common-law husband, Alfred, a German immigrant, who is an integral part of this historical fiction, and the author uses him to justify some of Mary's actions. The book devotes 25-35% of the last pages off on a tangent about Alfred's morphine and eventual heroin addiction, and eventual overdose from heroin, but I can't find any actual information via some online research that supports this character and his involvement in Mary's life to that extent. (The implication is that she had to go back to cooking to pay for his drug habit.) Having gotten off on that tangent, the author tries to bring the story back around to Mary before her final incarceration, but it fell flat at that point for me and I wished the focus had just stayed with Mary and the book had been a bit shorter.
A good read in parts, and I learned things I didn't know, but overall I felt it needed to be a bit better focused and better edited.