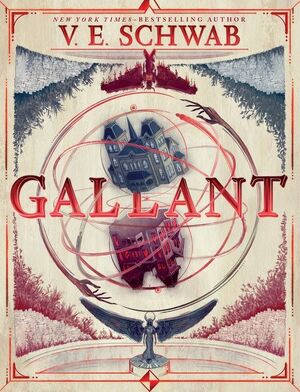 Genre: Fiction | YA/Fantasy

Star Rating: 5 out of 5 stars

Synopsis from The Storygraph: Olivia Prior has grown up in Merilance School for Girls, and all she has of her past is her mother's journal—which seems to unravel into madness. Then, a letter invites Olivia to come home to Gallant. Yet when Olivia arrives, no one is expecting her. But Olivia is not about to leave the first place that feels like home; it doesn't matter if her cousin Matthew is hostile, or if she sees half-formed ghouls haunting the hallways. 

Olivia knows that Gallant is hiding secrets, and she is determined to uncover them. When she crosses a ruined wall at just the right moment, Olivia finds herself in a place that is Gallant—but not. The manor is crumbling, the ghouls are solid, and a mysterious figure rules over all. Now Olivia sees what has unraveled generations of her family, and where her father may have come from. Olivia has always wanted to belong somewhere, but will she take her place as a Prior, protecting our world against the Master of the House? Or will she take her place beside him? 

New York Times–bestselling author V. E. Schwab crafts a vivid and lush novel that grapples with the demons that are often locked behind closed doors. An eerie, stand-alone saga about life, death, and the young woman beckoned by both. Readers of Neil Gaiman, Holly Black, Melissa Albert, and Garth Nix will quickly lose themselves in this novel with crossover appeal for all ages. 
It's no secret, I have really enjoyed VE Schwab's writing – Addie LaRue was a 5-star read for me and I thoroughly enjoyed City of Ghosts (I've just read book 1 in that series). Gallant was my BOM club offering from last month and I had heard good things about it. I wasn't disappointed.
The synopsis above does a pretty good job with the basic plot points, so I won't revisit those here. What I find so compelling about Schwab's writing is how she creates flawed characters with so much real-life strength behind them, I find myself falling in love with them and being willing to go along completely with whatever story she wants to craft around them almost from the end of chapter one. Olivia is a wonderful character (and reminded me a bit of Matilda, which I read earlier in the month), filled with strength, creativity, curiosity and compassion, despite having a very difficult childhood in the School for Girls. Olivia also happens to be nonverbal and while some authors might make that the only stand-out part of a character, Schwab just adds that to the list of things that make Olivia …. Olivia. It is part of the story but it never becomes the driving factor in the story.
The setting is gothic, creepy and lush. The plot is filled with ghoulish (literally) and dark things, which Olivia is willing to do battle with, make friends with, and try to understand. The house she comes home to, Gallant, is itself an important character in the book, both in this world and in the shadow world. Olivia is faced with some hard decisions and the book leaves her story somewhat unfinished, but in a way where you know she will be strong enough to overcome whatever the next chapter throws at her. (A good lesson for anyone to learn about life.)
I definitely saw similarities to Neil Gaiman's writing in this one, as well as The Secret Garden, and the other YA fantasy authors mentioned above, but for me, this is another title by this author that transcends the "yet another YA fantasy" label to be so much more. Books that rip my heart out (in a good way) and make me think about the setting, the characters, and the plot in the months after I've finished reading, wind up being those few 5-stars reads I could come back to again and again. Gallant is one of those.