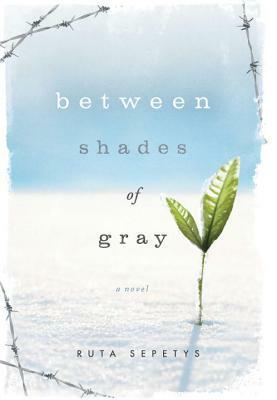 Genre: Historical Fiction/YA

Star Rating: 4-1/2 out of 5 stars

Synopsis from The Storygraph: Fifteen-year-old Lina is a Lithuanian girl living an ordinary life — until Soviet officers invade her home and tear her family apart. Separated from her father and forced onto a crowded train, Lina, her mother, and her young brother make their way to a Siberian work camp, where they are forced to fight for their lives. Lina finds solace in her art, documenting these events by drawing. Risking everything, she imbeds clues in her drawings of their location and secretly passes them along, hoping her drawings will make their way to her father's prison camp. But will strength, love, and hope be enough for Lina and her family to survive?
I was looking for a title to fufill a prompt for The Uncorked Librarian's reading challenge for April to read a book set in the Baltics, and this was one she recommended for the prompt. I hadn't heard much about this book, although apparently it's being made into a movie, but she raved about it so I picked up the audiobook to listen to on my morning walks. After finishing it, since the majority of the book is set in Siberia, I am opting to slot it in for the The Storygraph Reads the World challenge prompt for a book written about Russia (the author is not Russian, however) because right now I cannot stomach another title about horrific things the Russian military do to ethnic groups, given the current crisis in the Ukraine.
So with that hint about this book, despite being a YA title, it is not at all an easy read. The young protagonist, Lina, is sent to a work/prison camp in Siberia with her mother and younger brother. They are separated from their father, who has been arrested for crimes against the state (we don't find out what those are until the end of the book). Conditions at the Siberian work camp are awful. Lice, scurvy, dysentery run rampant through the camp, and many of the people in the camp literally lose their minds. Although the Siberian camp is bad, things get worse when Lina and her family are sent to work in another camp north of the Arctic Circle. Throughout it all, Lina struggles to keep a sense of self and identity. There is also a budding romance with a young man in the camp as well, although they are separated when she's sent to the Arctic.
The author doesn't gloss over the awful conditions and the completely dehumanizing aspects throughout the story. These are contrasted with flashbacks to Lina's much (MUCH) more privileged life before her family is broken up. I knew virtually nothing about the crimes committed against the Lithuanian and Estonian people by Russia during the late 1930s and 1940s, and in fact, the majority of this book was an eye-opener for me. While the stories about the German prison camps and mass exterminations of the Jews during WW II are well-documented and much better known, the history of equally deplorable treatment of the people of the Baltic States is rarely talked about. The author did extensive research (including her own family) and collected oral histories of people who had lived through the camps and how they were forced to bury the stories – sometimes literally – of their tales of loss and survival, sorrow and hope.
Another read I'm glad I found this year, although it is not an easy one. Also multiple trigger warnings in this one, as might be expected, so check those out for yourself if you decide to read this title. As a final note, the audiobook narrator was a bit young-sounding to me (and yes, the main character is 15 and 16 during the book, but even so), but my favorite part was hearing a short 5-minute interview with the author at the end in which she talked about the importance of these stories and her process in writing the book.