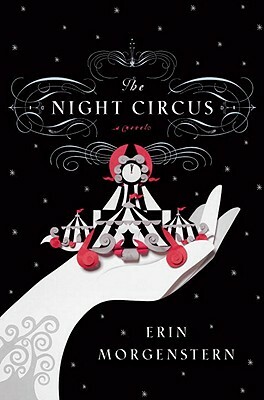 Genre: Fiction/Fantasy
Stars: 5 out of 5
Synopsis: The circus arrives without warning. No announcements precede it. It is simply there, when yesterday it was not. Within the black-and-white striped canvas tents is an utterly unique experience full of breathtaking amazements. It is called Le Cirque des R ves, and it is only open at night.But behind the scenes, a fierce competition is underway–a duel between two young magicians, Celia and Marco, who have been trained since childhood expressly for this purpose by their mercurial instructors. Unbeknownst to them, this is a game in which only one can be left standing, and the circus is but the stage for a remarkable battle of imagination and will. Despite themselves, however, Celia and Marco tumble headfirst into love–a deep, magical love that makes the lights flicker and the room grow warm whenever they so much as brush hands.True love or not, the game must play out, and the fates of everyone involved, from the cast of extraordinary circus per­formers to the patrons, hang in the balance, suspended as precariously as the daring acrobats overhead.Written in rich, seductive prose, this spell-casting novel is a feast for the senses and the heart.
Honestly, sometimes I wonder about myself. At some point, I had decided I wouldn't like this book and was sort of put off reading it but now I wish I hadn't waited so long, because I absolutely adored it! It was a perfect blend of historical and magical details with beautiful writing and an immersive plot that I just could not put down. Some reviewers felt it was a bit slow-paced but I felt like that slower build-up to the ending just heightened the experience, and allowed time for me to savor all of the lovely writing and details included in this one.
Celia and Marco may be some of my favorite star-crossed lover characters written. They contrast and complement each other in such a way that the unfurling of their relationship and the challenge they are trapped in are like a complex dance. Add in the other characters who, while less central to the main plot, wind up furthering the story – Bailey, Poppet, Alexander and Prospero – and this is a wonderful mix of personalities, each brought fully to life. I loved the descriptions of the circus tents and the different acts in them, and you probably could have guessed the descriptions of the black and white gowns Celia wears are some of my favorite parts of the book. I can see why this book is being made into a movie. The detailed descriptions lend themselves perfectly to being presented in a visual fashion, and I was able to picture the scenes and characters in my head as they were introduced.
Despite the fact that you know from fairly early on in the book that Celia and Marco will be placed into conflict, I thoroughly enjoyed following that plot line to the end, and how the subplots were subtly woven into the main story. I wanted more back story on Tsukiko, the contortionist, as she plays a small but vital role in the telling of this tale and I feel she has more to tell us about her own life.
I should also note that I listened to this as an audiobook and was delighted to find that the narrator was a favorite, Jim Dale, who also narrated the Harry Potter series I have as audiobooks. His deft handling of this tale of magic enhanced the experience and would highly recommend listening to this version if you're considering reading the book.
My top pick for January with 5/5 stars and likely one of my top 3 books of 2022, even though the year has barely started!