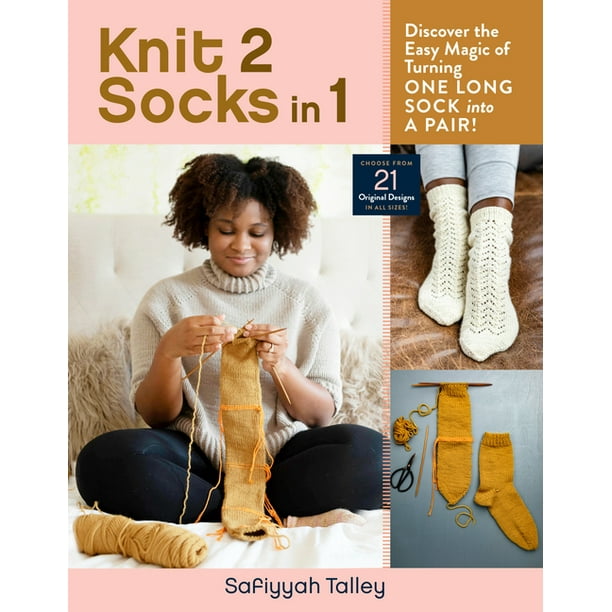 Thank you to NetGalley and Storey Publishing for providing me an ARC in exchange for my unbiased review of this book.
Knit 2 Socks in 1 by Safiyyah Talley (expected publication date November 9, 2021) is a fun new way to approach the dreaded "second sock syndrome" that plagues many knitters. There are many ardent sock knitters out there, but many find themselves bogged down after the initial excitement of knitting up sock #1 when faced with the task of repeating everything they've just done to knit sock #2. Talley's approach to knitting socks gives sock knitters a new way to knit a pair of socks that helps prevent second sock syndrome.
The book is organized with the first half being a general reference guide for making socks. There is an extensive discussion of types of yarns to use that work best for socks, and considerations for needles and working small circumferences in the round. Talley then breaks down the steps for knitting 2 socks in one long tube, placing lifeline scrap yarns at specific points in the tube so that you can go back and finish the final details (a cuff and a toe, and the heels) once the long sock tube that encompasses both the legs and feet are completely finished. This gives you only minimal finishing and lets you work the majority of the socks in one go. The author also provides a handy list of measurements, so you can achieve a perfect fit (for you or a recipient) with measurements for leg and foot length and foot circumference, all based on your gauge/the weight of yarn you've chosen to knit your socks with. This gives you a basic recipe from which you can work socks in all sizes and weights using her 2 Socks in 1 technique.
The second half of the book contains patterns for socks using this technique, ranging from very simple/all stockinette to more complex (although none of them exceptionally difficult) socks with some patterning on them. Again, these socks are all customizable using the measurement standards she provided in the first half of the book, allowing you to work them to your specific gauge and size requirements.
The technique is well-illustrated throughout, step by step, with clear photographs showing the process. The patterns are also nicely photographed in a range of sizes (from toddler through adults) with a fun, upbeat vibe. (Her littlest model is possibly the cutest ever.) You could easily use a pattern already in your library that is top-down and apply the techniques described in this book, making it a great way to tackle some of the patterns you might have had lurking in your queue for a while.
My only reservation about this book is that it won't be for anyone who is a steadfast heel-flap knitter. The technique lends itself only to "afterthought" type heels, so short-row heels (which are used for illustrative purposes in the book) or Fish Lips Kiss Heels will work. Some knitters find these a bit snug and prefer a heel-flap type construction, which isn't easily translated into this particular technique. It also assumes that you like working socks from the top/cuff down. Modifying an existing pattern will work, but knitters should be aware if the pattern they've chosen has a specific directionality to it, as that will change if the original pattern was written for a toe-up orientation.
Overall, I think this is a fun reference book to help sock knitters expand their knowledge arsenal of ways to approach finishing an entire pair of socks and well worth a look if you are a beginner or experienced sock knitter.